Reflective Raised Pavement Markers
Click To Enlarge
"Reflective Stimsonite Road Markers. Very bright and simple to install. Currently available in blue, yellow, white, yellow/red, green, red and white/red. Great for marking around gates, parking lot marking, fire hydrant marking and other uses. The Stimsonite model C88 has a dimension of 4 inches square. These markers are reflective from both directions.

If you are using these markers on a DOT (department of transportation) roadway you should verify that the C88 marker is approved in your area.

Can be applied using your own two part epoxy or by using our 4" x 5" butyl adhesive pads or our 5" x 5" melt down thermoplastic pads.
To use our Butyl Adhesive pads simply peel off one side of the pad and apply it to the pavement then peel the other side off and install the marker. Roll over the marker with a vehicle to get maximum adhesion. The adhesive butyl pads are sufficient for construction zones or light to medium traffic flow. In cold weather use a torch or heat gun to warm the asphalt and pad.

To use our Melt Down Thermoplastic pads simply heat the pavement with a propane torch, lay down the pad and continue heating until it is melted. Then gently press the marker into the molten thermoplastic and let it cool. Thermoplastic pads are more permanent.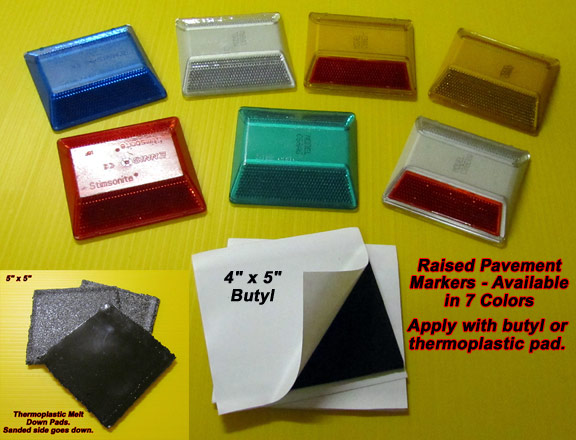 Cost is $4 per reflector and $2 for each butyl pad or thermoplastic pad. Make your selection above.