High Intensity Pre-Striped Barricade / Hazard Tape
Click To Enlarge
High Intensity Grade Pre-Striped Reflective Barricade Tape. In 150 foot rolls. ASTM D4956 Type-III Reflective Vinyl Rolls. About 3 times brighter than engineer grade tape. We carry 2", 4", 6", and 8" wide rolls. For 1" wide rolls or rolls wider than 8" call 850-934-3157. Available in red/white or orange/white with either a right or left slant. (rolls in picture are right slant which is the most popular) Stripes are 6 inches wide and are at a 45 degree angle. Used in a wide variety of applications such as gate striping, bollards, barricades and vehicle conspicuity. Often seen marking the end of a roadway. Approximately 250 Candlepower. This tape has the honey comb pattern. Product color, width and slant choices can be made above using the drop down menus. Price starts at $109.99 for the 2" x 150' roll.
(For Engineer Grade Type 1 Barricade Tape CLICK HERE)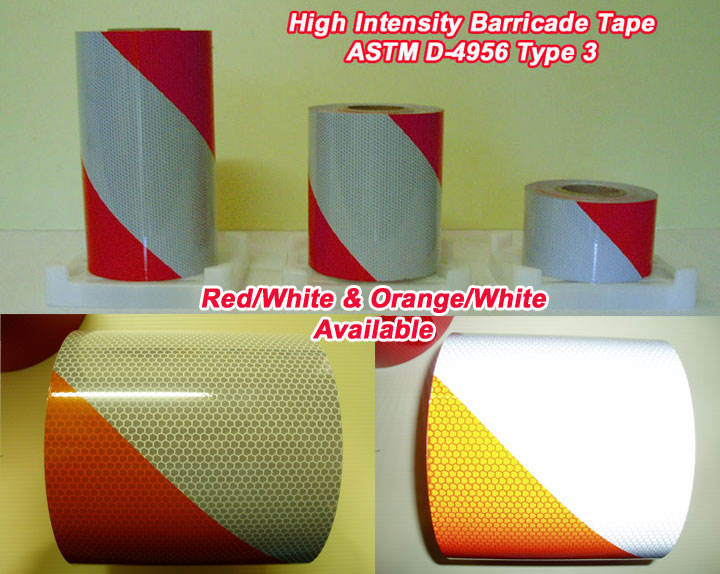 The prices are as follows -

$119.99 for the 2" x 150' roll.
$189.99 for the 4" x 150' roll.
$239.99 for the 6" x 150' roll.
$289.99 for the 8" x 150' roll.
$399.99 for the 12" x 150' roll.
$799.99 for the 24" x 150' roll.